The recap of the first Jonathan Strange and Mr. Norrell,  Chapter One: Friends of English Magic, can be found here.
The title of Episode Two–er, Chapter Two is "How is Lady Pole?"
Short answer: Not so good.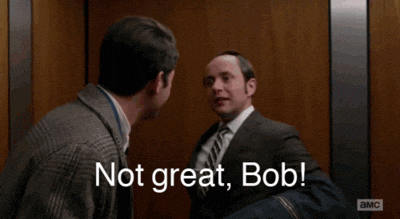 (Thanks for the gif, Mad Men.)
Long answer: That's what my recaps are for! Let's get started.
After resurrecting Emma–now Sir Walter Pole's wife, making her Lady Pole–Mr. Norrell seems to be doing quite well for himself. He's assisting in the war effort against the French (such as creating a fleet of ships composed of water. As the French say, "Merde!"), thus beginning the attempt to bring respectability to modern English magic. The top of the episode features him suggesting setting up sea beacons that no one will see, that will prevent England from being invaded ever again. However, what the parliament would really like is a magician on the field. Norrell's excuse is that he "doesn't travel well." (TV Watcher Translation: "I really don't want to die.")
Meanwhile, Segundus and Honeyfoot visiting the house of the late Miss Absalom the Enchantress for a school of magic. (Start the Harry Potter crossover fanfic!) Instead, they come upon dear Jonathan Strange, who had just been trying to perform a spell trying to connect with Miss Absalom the Enchantress before Segundus was so rude as to interrupt. Seriously, Gundy, try to keep from passing out and entering other people's dreams on accident.
During this meeting, we discover that Arabella and Jonathan have married, he is not quite in control of his natural talent, and because Mr. Norrell owns all of the magic books, Jonathan has been creating spells of his own with only a child's history of the Raven King. Then Honeyfoot suggests that Jonathan apprentice Mr. Norrell. Jonathan is reluctant, but Segundus–er, Gundy insists that he is "his equal."
Norrell attends a dinner with Sir and Lady Pole, where Lady Pole is expressing some eccentricities, such as giggling inappropriately and wishing to dance at odd times. Norrell is a bit worried. It probably doesn't help that the butler, Stephen Black, confides in him that the servants have been a little jumpy because they think the Pole residence is haunted. Norrell's inner monologue sounds a lot like this: "Uh oh."
The following morning, Lady Pole awakens in an uneasy mood. She has dreamed of chimes, endless dancing, and a mysterious Gentleman with Thistle Down Hair. She finds no joy in it. When Sir Walter summons Norrell to speak with Lady Pole about the matter, she attempts to say what is bothering her. But what comes out of her mouth are nonsensical tales. Norrell tells Sir Walter in private that there is nothing he can do, for "magic cannot cure madness."
Norrell uses the summoning spell to call the Gentleman with Thistle Down Hair, and confronts him on his betrayal. The Gentleman tells him that the bargain has been made and there's nothing Norrell can do about it. So Norrell, without saying as much, denounces fairy magic.
The butler, Stephen Black becomes a major character in this tale in this episode as well. He here's the jingle of the servant's bell and goes to investigate. He opens a door and finds himself in an otherworldly room where the Gentleman with Thistle Down Hair stands. The Gentleman asks for a shave, with Stephen performs willingly. The Gentleman is grateful and invites Stephen to the ball. Stephen accepts and the Gentleman replies, "The bargain is done." That's not good…. What's also not good is that the Gentleman has Lady Pole's little finger in a nice box. Definitely not good…
Back in reality, Jonathan and Arabella Strange take a house in London and go to visit Mr. Norrell. (Jonathan: "I've never met a magician before… not a real one.) Lascelles and Drawlight are there, serving as Norrell's entourage and the gatekeepers of English magic. They think Norrell is the only magician in England. Norrell, however, wants to see him perform a spell. He takes a pamphlet–an issue of Friends of English Magic–and it transfers into the mirror, switching places with the reflection. Norrell is more than pleased and agrees to take Jonathan on as a pupil. For ten years. Meaning Norrell has to share his books. Remember how this is a man who prefers books to people?
\
At night, Lady Pole panics at the sound of the town bells striking seven o'clock, trying to tell her husband that they call her to the dance and that she mustn't fall asleep. She breaks a mirror, that Stephen must clean up before he is called to the other world by the Gentleman again. The Gentleman tells Stephen that the world they are in is called Lost-Hope, and he again invites him to the ball where they have been dancing for days… and days… and days. He also references that Stephen is the "nameless slave who shall be a king." (Who remembers Vinculus's prophecy? Anybody?) They arrive at the ball of Lost Hope, which is very reminiscent of the masquerade scene in Labyrinth except maybe a bit creepier. And no David Bowie. Sad faces.
Jonathan continues to study magic, but finds it frustrating that Norrell won't talk about fairy magic or the magic of the Raven King. (Jonathan: "It's like attending a priest's seminary and not talking about God. Or being told that God is wholly irrelevant.") Sir Walter Pole comes to find him and Arabella at their home one day, saying he has no time to look for Norrell and needs assistance in finding French destroyers that have slipped through their blockade. They arrive at the Pole's home, and while Jonathan goes off with Sir Walter, Arabella encounters Lady Pole. When Arabella introduces herself and says that Jonathan is a student of Mr. Norrell, Lady Pole tries to warn Arabella of what kind of man Norrell is, but she speaks in nonsense again. Nonetheless, she says that she hopes Arabella will come again.
When Jonathan attempts to ask Norrell about why they don't use fairy magic, Norrell completely turns down the suggestion. I wonder why?
Jonathan tries to summon a fairy himself, and he succeeds in calling the Gentleman and Stephen, even though Jonathan can't see or hear them. Arabella brings up Jonathan's first spell, and Jonathan asks how Norrell could be his enemy? I don't know, maybe because the spell told you so? While this is happening, the Gentleman sees Arabella and is immediately captivated. Oh, curse words…
Norrell sets up the invisible sea beacons in Portsmouth. Sir Walter is confused because there's no way to tell if they're there. (Should have put a bell on them, like the people said.) The following morning, Jonathan and Arabella are awoken by an English naval officer.(I have to say, actor Bertie Carvel's anti-morning person faces are probably the best I've ever seen. I relate whole-heartedly.) Anyway, a ship has tipped over near the shoal of Horse Sand, most likely due to Norrell's invisible beacons. There's not much that can be done with modern spells to safely turn the boat up again. So, Jonathan gets creative. (Jonathan: "They're called horses. I made them out of Horse Sand.")
Sir Walter and company are impressed. They want Jonathan to go to the Portugal and assist the British army. Norrell is having none of that. Nope, too dangerous, risks the reputation of English magic. Nope. Not happening. But there's a little subplot I've been holding off on mentioning until now. You see, the Duke of Roxburgh has died and he had a lot of debts. Who's that? you ask. Have we seen him? No, we have not. But you see, he has a library that contains magical texts. Some of which Norrell does not own, others of which he does not want in the hands of the English public. Or Jonathan. And there won't be a private sale… they're all going up for auction.
So guess who's okay with Jonathan going off to war now! There's a bit of karma since Jonathan is going to need books since he is still learning. Y'know, about forty of them. (By the way, despite his paranoia, you can tell that Norrell does find a friend in Jonathan despite their differences. After all, there's no one else who really gets his interest in magic. Still… forty books is no small thing for Norrell. Cry a river of tears.
Before he parts for Portugal, Arabella tries to tell Jonathan the nonsense story that Lady Pole had told her. Jonathan tells her that Lady Pole is not in her wits, but Arabella is able to tell him the one thing Lady Pole made very clear: she hates Mr. Norrell. With that, Jonathan and Arabella kiss each other goodbye and the carriage drives off.
Again, remember that subplot about the Duke of Roxburgh's library? The reason Norrell was suddenly okay with Jonathan leaving the country? Arabella had noticed it in the episode as well. In fact, she was the first character to take note. (Jonathan was too busy studying to notice). So she attends the auction to bid on the library… just like Norrell. They become the main competitors of the lot, and right when Arabella is about to win the auction, Mr. Norrell outbids her. By a lot. Like 2,000 guineas a lot. Arabella now sees Norrell for his faults, but what Norrell sees is much different. He sees the Gentleman staring at Arabella. Oh curse words! OH CURSE WORDS!
KC's Favorite Bits:
A good thought from Norrell. (Ah lurve berks.)
Never lonely with a book.
And Arabella Strange calling out her husband for unwittingly patronizing her. This is what marriage looks like.
Did you watch "How Is Lady Pole?" What did you think? Is there something you're hoping to see in the next episode? Comment below!
Next week's recap–Chapter Three: Education of a Magician.